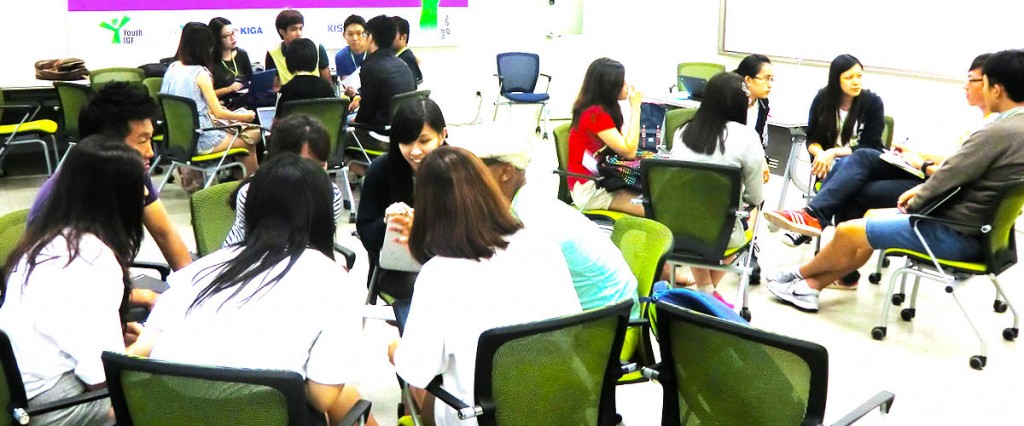 YIGF 2014
Date: 3-6 Aug
Venue: Crowne Plaza Greater Noida, Delhi
Accommodation:  Crowne Plaza Greater Noida, Delhi
Eligibility: Students who are in their tertiary education with good communication skills of English
Registration: Download the application form
*Fellowship is open to students study in India and it includes the meals.
Enquiry Contact: [email protected]
What is Youth IGF?
Youth as a majority of Internet user group, their voices are however less heard in any decision making process. With a dedication to raise the awareness of Youth on Internet governance and encourage the young generation to participate in the policy discussion, a group of NetMission Ambassadors (http://www.netmission.asia) has initiated the Youth Internet Governance Forum (YIGF) in 2010 in parallel with the APrIGF.
Inspired by United Nation's Internet Governance Forum, the Youth IGF takes the same multi-stakeholders' approach as the global IGF. YIGF is usually a 3-day-2 nights camp which participants are assigned a role as one of the interest group such as government, private sectors and NGOs. During the camp, they are encouraged to think from a new standpoint. Based on equality, YIGF provides an open platform for young generation to express and interchange their ideas and own thoughts on Internet governance freely. It also serves as a preparation camp for them to understand various Internet issues and open their door to the international policy discussion.
One of the core features of the Youth IGF is that the facilitators are all youth themselves i.e. NetMission Ambassadors which signifies the empowerment of youth as well as the peer-to-peer impact.
Key Feature -Role-Play Discussion
All youth participants were assigned to different stakeholder groups for example Civil Society, Private Sectors, Governments, etc. for the discussion of various Internet governance issues. The aim of this simulation session is to let the youth to put themselves into other people's shoes and encourage them to think from a multi-stakeholder perspective.
After experiencing different perspectives in previous sessions, external meetings will be held for the debates and discussion across different stakeholder groups. This last session is opened to all other APrIGF participants.
Past Youth IGF
2013 – Korea (http://2013.yigf.asia)
2012 – Tokyo (http://2012.yigf.asia)
2011 – Singapore (http://2011.yigf.asia)
2010 – Hong Kong (http://2010.yigf.asia)
Public Session:
Date: 5 Aug 2014
Time: 17:00 – 18:00
Venue: Tapas 3
Agenda:
Opening Remark
Recap of the past 2 Days
Position Paper Presentation
Panelist Discussion
Floor Discussion
Wrap Up
Discussion Topic:
[Security] Secure your virtual identity in a mobilizing world!
Topic of this year:
1) From Internet to Equinet – How to build an open and accessible Internet in order to equally engage all the Internet users, especially the next billion to join the Internet?
– [Access] How to overcome the unequal access of Internet?
– [Openness] Should government censor the Internet?
– [Security] Secure your virtual identity in a mobilizing world!
2) How to drive Social Change through Innovation and ICT technologies?
For the sake of variety, new elements are suggested to be included in the YIGF Camp to make it more interesting and engaging. Youth will have the chance to discuss how to drive Social Change through ICT startups.
More information on the topic background and guiding question, please click here.
YIGF Agenda:
More information please click here.
How to apply?
1) Download the application form;
2) Please complete the form and submit it together with the following documents:
a) A copy of your student card
b) Any other relevant documents, which you may deem useful in supporting your application.
3) Submit the form to [email protected]
Note:
i. The provision of personal data and other related information by means of the application form is voluntary and will be used to determine the application. Please ensure data provided is adequate and accurate
ii. Your application must reach the Secretariat by 15 July by emailing the application form to [email protected]